APPLIED ANALYTICS DATA SCIENCE ,DATA ENGINEERING ,DATA MANAGEMENT ,ANALYTICS AND VISUALISATION , IOT ANALYTICS , MACHINE LEARNING , DEEP LEARNING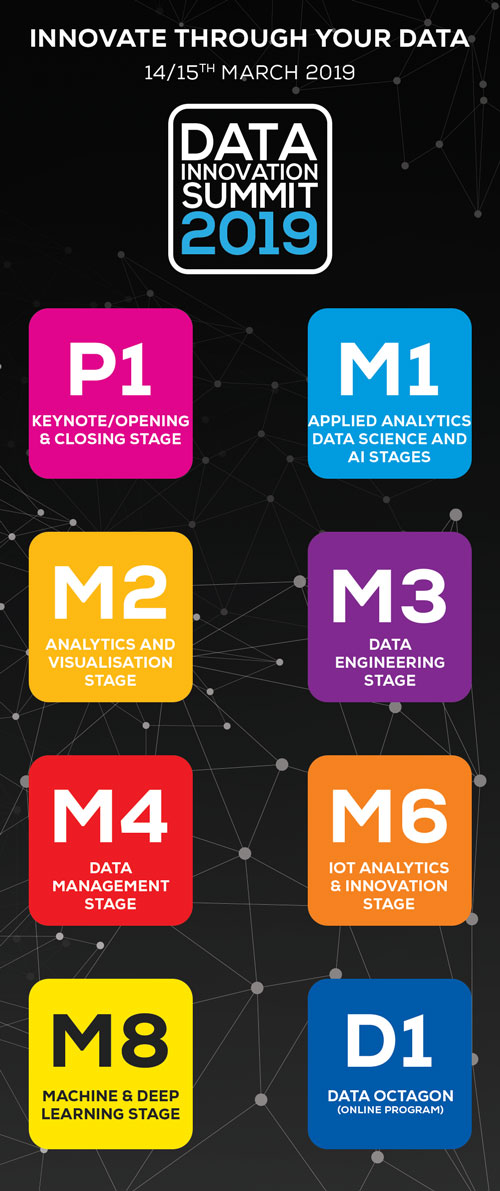 Welcome to the fourth edition of Data Innovation Summit. It is going to be bigger, better, more insightful and more exciting than ever. This year's event will focus on practical case studies on Applied Innovation, Analytics and Visualisation, Machine Learning, Artificial Intelligence, Data Management, Data engineering, IOT insight and technology.
With over 100 Nordic and international speakers on six stages, six workshop stages and plenty of learning and networking activities in the exhibition area, the 2019 summit is the place to be for all professionals and organisations working with utilisation of data for increasing profit, reinventing business models, develop data-driven products, and increasing customer satisfaction.
BIGGER, EXTENDED, MORE INSIGHTFUL, GLOBAL:
We are glad to announce that we have extended the event to a two day setup. To accommodate the 2000+ delegates expected on this edition and still provide a great experience, we are utilising the full capacity of the venue. We have also built a completely new room and expo setup that not only provides a natural movement flow between stages, but also accommodates the ambition of the conference to cover the entire spectrum of data innovation organisational and topic complexity. The agenda is spread across two days, with a total of 6 stages plus plenum room, 6 new workshop rooms, new "Data after Dark" networking feature on the first day and "Data Safari" satellite educational events after the official program ends. More than 86 presentations, 60 workshops, 20 panels will take place during the event. As last year, the event is a hybrid with on-stage and on-line live program streamed directly on our social media channels.