Using DevOps to Deliver Reliable Code at Speed
DevOps has driven faster enterprise software deployments, but it also means that the ability to resolve failures in the development pipeline must keep pace.
This Business Impact Brief, produced by 451 Research, examines how enterprise organizations are looking to a new generation of faster, more flexible solutions to deliver reliable, quality software at the speed of DevOps.
Key insights include:
The connection between speed, efficiency and reliability is the key toward making DevOps
a central pillar of digital transformation.
New technologies such as vulnerability assessment, advanced monitoring, and record and replay debugging should be employed as early in the process as possible.
Both technical metrics (such as MTTR) and business metrics (such as user experience and customer satisfaction) should be tracked to drive success.
Research conducted by: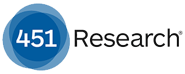 Enjoy! The Undo team

Sponsored by Undo.